Mykines
Valid until March 2023
Due to a landslide on Mykines in October 2021, that crossed the path to the islet of Mykineshólm and the lighthouse, the path is closed until further notice. There is an imminent risk of further landslides in the area, therefore it is not safe to go past the memorial monument at the moment. The risk of further landslides will be reviewed in March 2023.
Between early may to end of August there is still plenty of opportunity to see puffins in the monument area and on the island in general.
Hikes to other areas on the island are available.
Hiking Fee
If you want to hike in Mykines, you can pay the hiking-fee online via hiking.fo, or by creditcard or cash at The Locals café in Mykines upon arrival. They also have information about hikes in the area.
More information below.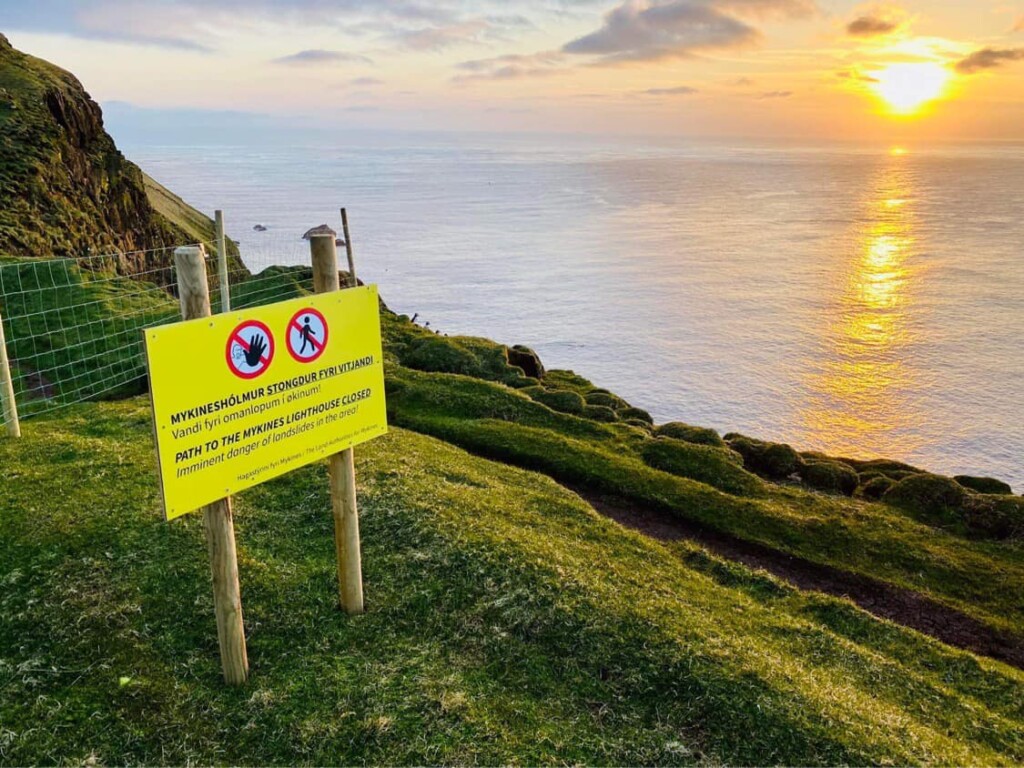 (The closed off path – Picture: Oda Andreasen)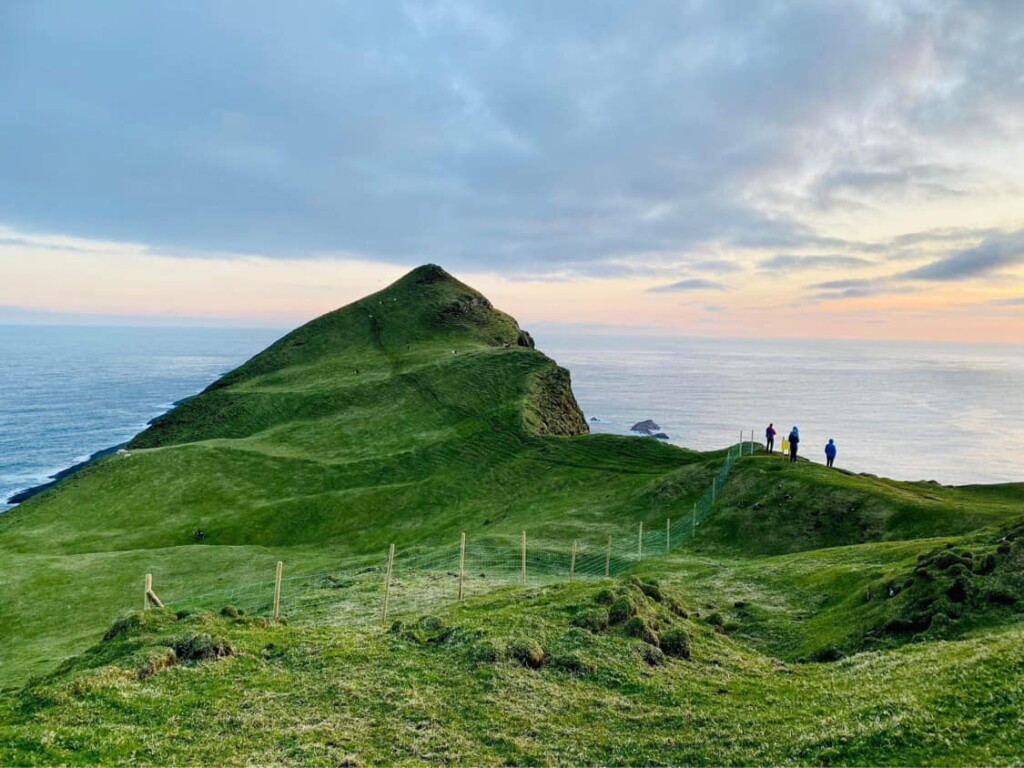 (The closed off path – Picture: Oda Andreasen)
The village of Mykines
Mykines is the only village on the island by the same name. Although there are more than 40 houses in the village there are only 11 permanent residents. Furthermore, for 8 months per year their only way out is by helicopter. With no grocery shop being on the island, the islanders also rely on the helicopter to bring provisions to last them through the long winter.
However, during the four months in summertime when the ferry sails out twice a day, Mykines turns into a vibrant village that is bursting with life. It is a popular holiday destination for travelers from the mainland, and during summertime the number of residents drastically increases.
Hiking and Sightseeing in Mykines
Mykines is a truly amazing place. It is without a doubt the most sacred and fragile of all the places in the Faroe Islands that people can go. It is filled with everything unspoiled nature has to offer and is one of the few Ramsar areas (areas of special wetland conservation). With thousands of wild seabirds, Puffins, Guillemots, Razorbills, Fulmars, Kittiwakes, Gannets and many many more. Not to mention all the land-based birds that live there as well. Puffins and bird watching are the main attraction on Mykines but there are also a variety of great sightseeing spots on the island. Here you can book a variety of guided tours on Mykines or you can find your own local guide for a more tailored trip according to your own wishes
Because of the growing pressure from the steadily increasing number of travelers from all over the world wanting to go to this small, delicate area, there have been installed some safety measures to minimize the disturbing and protect the wildlife. Please read them here before heading on your adventure.